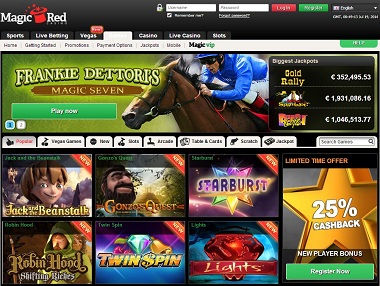 Magic Red Casino is a rather new casino operated by Zirconium Gaming Limited – the same company behind Winner Casino.
Some of you may remember that we posted a warning regarding Winner Casino in November last year because of their predatory progressive rules.
Magic Red Casino has similar unacceptable rules, so we think it is appropriate to warn our readers against  this new casino as well.
According to their rules, players can not cash out more than €/$/£9000 or NOK/SEK 50 000 per 30 days.
This also applies to progressive jackpot wins, something that the casino confirmed with this reply: 
"The 9,000 withdrawal limit every 30 days is indeed applicable to Jackpot Wins as well. We surely hope you can win big at our casino!"
This means that it may take a few decades to get paid if you should hit one of the big progressive jackpots at Magic Red Casino.
For example – it will take them closer to 30 years to pay out a €3 million jackpot (!).
disgraceful practice
When a pooled progressive jackpot has been hit, the owner of the game (for example NetEnt, Playtech or Microgaming) will transfer the whole amount to the casino where the jackpot has been hit.
All decent and reputable casinos (like the ones we promote on our site) will then pay out the jackpot to the lucky player in one big sum or in very reasonable chunks.
This is not the case with Magic Red Casino as they will keep all the money themselves and pay it out it tiny positions.
We strongly advise our readers to avoid Magic Red Casino and other casinos operated and/or owned by Zirconium Gaming Limited.