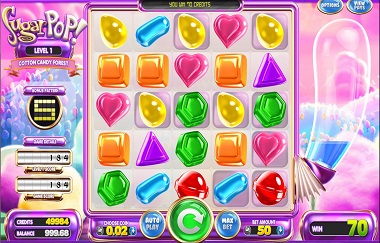 SugarPop is Betsoft's newest slot.
This is an All Ways Pays kind of game where winning combinations are almost endless.
It pays every time you get 3 or more matching Candy symbols touching horizontally or vertically.
Symbols in a winning combination will then Pop (blow up) making room for new symbols to land.
This is the basic game-play, but SugarPop also comes with many other features.
Almost too many features in our opinion as the game felt slightly messy.
It also gets a bit boring to go through several different features in a spin, only to see you have won like 3 times your bet.
We have not seen it live in any of our casinos, but will let you know as many of them are offering a selection of Betsoft games.
.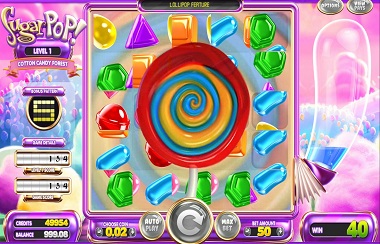 You start playing on level 1, but it is possible to level up by earning Points.
Each time you fill a meter on the right side – you will reach a higher level.
Some levels will unlock Special Candies like Jelly Beans, Lollipop, Cotton Candy, Caramel Chew and Jawbreaker.
There are 9 different Special Candies and each of them comes with a unique feature. 
These may be created by a special combination (Super Color or Color Bomb) or may just randomly appear.