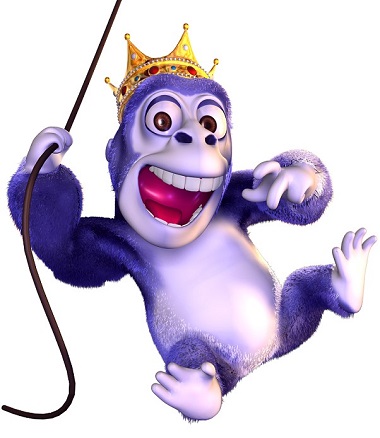 Guts Casino has added NextGen Gaming's Gorilla Go Wild video slot today.
It was first released in September last year so some of you may be familiar with it.
Guts has also added Microgaming's new Rabbit in the Hat today and Rabcat's Dragon's Myth.
The branded Psycho online slot was also scheduled to go live today, but it seems like NextGen has decided to postpone the release a few weeks.
We will let you know as soon as they have announced a new release date.
start your journey
towards Banana Nirvana
.
According to NextGen, dedicated players of this 25 line, 5 reel Slot will be rewarded with all kinds of jungle bounty.
Work toward unlocking 4 new and exciting types of free games with every feature played.
Keep spinning and watch as Gary gets promoted to higher levels of Jungle Royalty – each new level awards the player an RTP increase.
Plus, watch out for Random Bonuses which Gary may award when you least expect it.
Designed with revolutionary evolving game-play, Gorilla Go Wild™ is a game that gets more exciting the more you play it.
Hosted by Slot Gaming's grooviest Gorilla- Gary is a cuddly new hero with 3D looks and personality, who really gets involved in the action.
With a 'Wildly' appealing character, constantly varied gameplay and a steady stream of Prizes, Gorilla Go Wild™ offers something special to players of all persuasions.