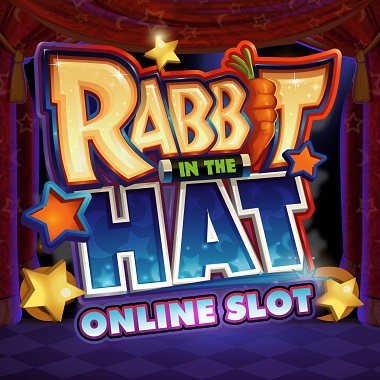 .
The stage is set
for wondrous wins
Rabbit In The Hat is a new slot from Microgaming that is scheduled to go live on the Quickfire platform in April.
We expect that many of our casinos, like Betspin Casino and Guts, will add it as soon as it has been released next month.
Rabbit in the Hat only has 9 pay-lines (which we think is refreshing) combined with 3 magic hat prizes: Wild Reel, Free Spins and Cash Prize.
Based on the preview video below, we think it looks pretty interesting.
During the base game, a magician may conjure up 1 of 4 Magic Hats above reel 5.
Each hat moves one reel to the left on each spin, and if the reels stop with a Wild below any magic hat, the player is awarded that hat's prize.
The Free Spins feature comes with a twist of course giving players more opportunities to win.
According to Microgaming, Rabbit in the Hat's graphics are reminiscent of the world's best live magic shows – bright, bold, captivating, and with exciting features to amuse and entertain.
Every element has been carefully choreographed to help players enter a world of fun, mirth and magic, where anything can happen.
Let us come back with more information later and we will give you a heads up as soon as Rabbit in the Hat is live.
[youtube=https://www.youtube.com/watch?v=4Mhgqp6a6os&w=320&h=240]