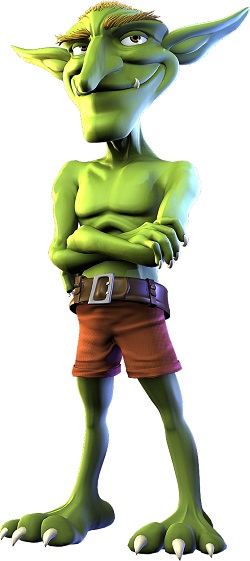 Greedy Goblins is Betsoft's newest slot game.
It has 30 pay-lines and 4 different features:
– Golden Coin Collapses
– Elfanian Free Spins
– Progressive Jackpot
– Greedy Goblin Steals Ideas 
Betsoft says:
BetSoftGaming, the originator and leader in true 3D cinematic gaming, have announced the release of the next game in their iconic Slots3™ series – Greedy Goblins.
Greedy Goblins is the sequel to the popular Slots3™ title Once Upon a Time, and the goblins have returned to wreak larcenous havoc on the brilliant, innocent elves of Elfania.
Greedy Goblins is played from the perspective of the goblins as they sneak into Elfania to filch ideas from the hardworking elves.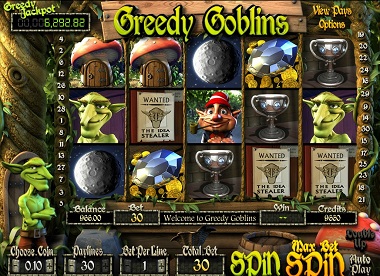 Greedy Goblins comes with a progressive jackpot called Greedy Jackpot, which is triggered by hitting 5 Elf symbols.
Notice that you need to bet max in order to win the jackpot – 5 Elf symbols will pay 12 500 x line bet if you do not bet max.
Golden Coin Collapses (or Coin Drops) is triggered by hitting 2 or more Gold Coins anywhere on the reels.
The greedy goblins will run out and grab the coins, allowing new symbols (and new wins) to fall into place from above.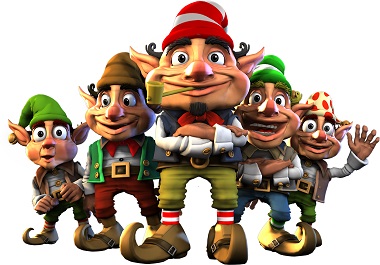 3 or more Elfania signs/symbols will trigger up to 25 free spins.
During free spins, certain icons will be branded with up to 10x multiplier, which should have the potential to give you some nice wins.
The last feature is a Bonus Game called Greedy Goblin Steals Ideas, which is triggered by hitting two Book of Secrets symbols (reel 2 and 4).
During the second screen bonus round, you can choose various ideas from the Elfania resident's workshop for the sneaky goblins to steal.
The bonus game will end once you hit a Collect symbol.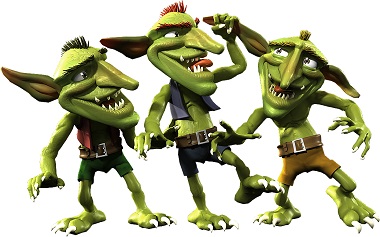 Many of our NetEnt casinos are offering games from Betsoft as well, but we have not seen Greedy Goblins live in any of them yet.
We will of course keep you updated.
Let us also mention that Guts Casino most recently inked a deal with Betsoft, so we are expecting that they will add many more of Betsoft's nice looking slots very soon.
Guts is already offering a selection of their games, but more to come yes.