Druidess Gold from the Australian company Lightning Box Games is now live at EuroSlots Casino.
This is a 1296 ways to win video slot with features like Ring of Protection Bonus (Free Spins with Held Wilds), Super Reel, Mega Spin and Wild symbol.
It has a pretty innovative (and interesting) game-play so we advice you to take a look at the pay-table before you start to play. 
The first thing to notice is that reel 3 is a so called Reelfecta Reel (Super Reel) and is compromised of 16 individual positions.
Each symbol in reel 3 can only be used once per winning combination. 
3 or more Bonus (Scatter) symbols trigger the Ring of Protection bonus – a feature that will give you at least 3 free spins.
During each free spin, starting at the top left corner and moving clockwise on the outer Reelfecta Reel, a specific reel will display either a Wild symbol or a Poison Flask symbol.
if a Wild appears, it will be locked and award you one extra free spin (up to 12).
If a Poison Flask appears, free spins end. 
Collect all 12 Wild symbols and you will in addition be awarded a Mega Spin.
Find more information in the game-play video below: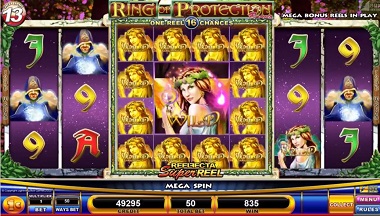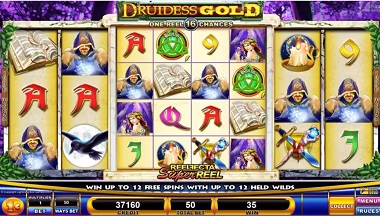 Druidess Gold from the Australian company Lightning Box Games is now live at EuroSlots Casino. This is a 1296 ways to win video slot with features like Ring of Protection Bonus (Free Spins with Held Wilds), Super Reel, Mega Spin and Wild symbol. It has a pretty innovative (and interesting) game-play so we advice […]