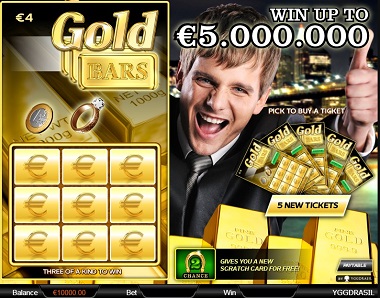 We have previously mentioned that EuroSlots soon will launch a bunch of games from Yggdrasil.
And one of the games they are launching is called Gold Bars – a classic scratch card where it is possible to win up to €5 million.
It does not happen very often that we write about scratch cards on our site, but €5 million as a top prize is pretty cool!

Each card costs €4 and you win by hitting 3 of a kind.
It has a feature called Second Change . Hit a Second Change– symbol (as you can see above) and you will be given a free card.
The theoretical return to player percentage (RTP) is relatively low (70.01%), but guess that is the prize we need to pay when playing for €5 million in a Scratch Card.
We will let you know when Gold Bars and other games from Yggdrasil are live at EuroSlots 🙂