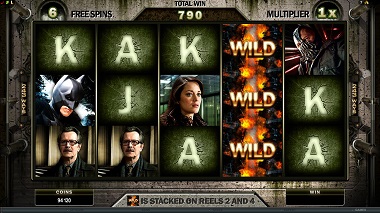 Microgaming has just uploaded a video showing some of the game-play in their upcoming new slot The Dark Knight Rises. 
This is a game we already have written a couple of posts about, and it is expected to go live at the end of next week.
As you can see in the video below – it comes with a bunch of different features.
Many players will probably also appreciate that The Dark Knight Rises is not connected to a progressive jackpot system.
We will give you a heads up as soon as it is live 🙂
http://www.youtube.com/watch?v=3FYenhPGnHI&feature=em-uploademailA&w=320&h=240
The Dark Knight Rises™ is a five reel, 243 ways-to-win video slot which offers plenty of special features to excite fans. 
The slot introduces several new features to gameplay including a split wild which forms a six of a kind winning arrangement, and a symbol scramble that rearranges symbols to create the best possible winning combination.