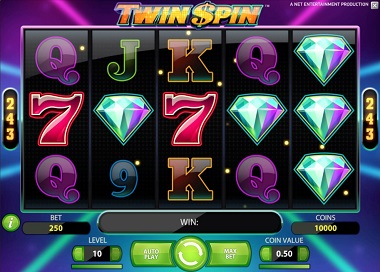 Twin Spin is NetEnt's next new slot – it is expected to go live in about three weeks time.
We have already posted a preview of the game-play, which you can see in this post.
Our first impression based on the video was that it looked boring.
But then we came to think about that the game-play in Twin Spin reminds us a bit of Starburst.
This should be a good thing as Starburst is a cool game and one of NetEnt's most popular slots.
So yeah – the game looks at bit boring and not very impressive at first glance, but we will not be surprised if it becomes quite popular.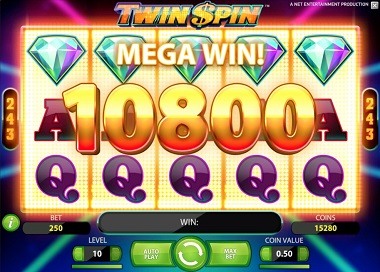 Like Starburst, Twin Spin does not have features like Free Spins or Bonus Game.
However – every single spin sees at least two of the reels cloned and linked together in a feature called Twin Reel.
During each spin, these two tween reels can also expand to become triplet, quadruplet or even a quintuplet.
The game also comes with a Wild symbol that seems to occur on certain reels.
Hopefully it has some nice win potential too.
We are of course looking forward to testing it out on November 21 (official release date).
NetEnt's last new slot game this year will be Creature From The Black Lagoon, which should be live December 3.