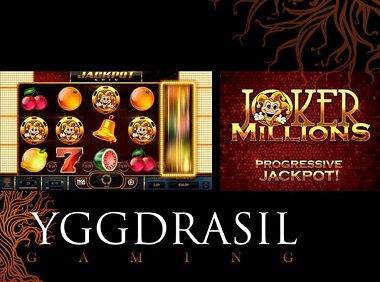 .
Big jackpot
& exciting base game
Yggdrasil Gaming has earlier this month announced the release of Joker Millions – a new pooled progressive jackpot slot.
Yggdrasil has not revealed the exact release date yet, but what they have stated is that it should go live at the end of February.
Many of our casinos are offering Yggdrasil slots and we expect that casinos like EuroSlots and Cherry Casino will add Joker Millions as soon as it has been released.
In addition to a big jackpot, Yggdrasil also promises that it has an engaging and exciting base game as well.
Fredrik Elmqvist, CEO of Yggdrasil, commented:
"Progressive jackpots are an excellent marketing tool for operators, but we didn't want to make Joker Millions all about the jackpot.
Most online jackpot slots are low variance, if you remove the actual jackpot from the equation, but Joker Millions also has very exciting elements in the base game.
While you are waiting for that jackpot spin there are also mystery joker wins that will take you closer and closer to the Joker Millions.
Our priority is always to produce engaging content and I'm sure players will love this game."
Expected Fall Out Value:
€1.3 million
Joker Millions comes with an expected fall out value of €1.3 million.
This is a theoretical estimate but as a random game, the jackpot can of course be hit at any time at any level.
For example. The expected jackpot fall out value on NetEnt's Mega Fortune jackpot slot is about €3.8 million.
This one has over the years been hit as low as €660 000 and as high as €17.8 million, which is also why jackpot slots are so exciting – anything can happen.
We are very much looking forward to finding out more about Joker Millions and we will give you a heads up as soon as it is live.
Yggdrasil's latest titles in our casinos are The Dark Joker Rizes, Draglings and Casino Zeppelin.