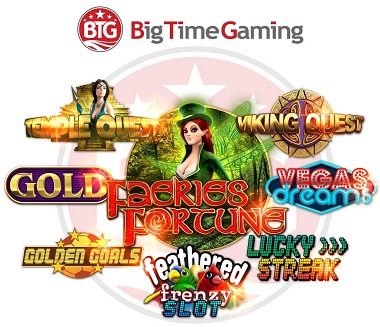 8 slots
now live
Casino Saga (soon to be Casino Heroes) has recently launched games from the reputable Australian company Big Time Gaming.
8 titles are live including Temple Quest, Gold, Golden Goals, Faeries Fortune, Feathered Frenzy, Lucky Streak, Vegas Dreams and Viking Quest.
Big Time Gaming slots have become quite popular over the last couple of years and you will find a selection or all of these games in many of our other casinos as well.
They were also one of the first to introduce multi-size symbols and other innovative features when Viking Quest was released in 2014.
Their newest slot, Faeries Fortune, went live on the Quickfire platform in March and comes with features like Mega Icons, Free Spins, Faeries Gems and Pots of Fortune.
Players who enjoy classic slots may want to check out for example Golden Goals – a football themed slot that went live a couple of weeks before the World Cup kicked off last year.
Let us also mention that Temple of Fortune will be released on Quickfire in September.
We will write more about this one later as we expect that many of our casinos will add it.