Update 21th February 2019: Our full review of the Wild Worlds slot is available now!
Read all details on the April 2019 release from Netent!
The Wild Worlds slot from Netent was announced at the beginning of the year and is scheduled for release on 9th April 2019. The title offers some clues as to what we can expect to see in the next creation from the Swedish game studio. There could be some pay or reel mechanics in play with a variety of wild symbols – sticky wilds, multiplier wilds or wandering wilds. It sure promises to be an exciting game. Rest assured, we will stay on the case and publish any emerging details the soon we get to see them.
Update 20th February 2019: Today we had our firs glimpse at the Wild Worlds slot and it is an awesome game that is not just entertaining and engaging but also has big win potential. Here's a screenshot, our full review will be available shortly.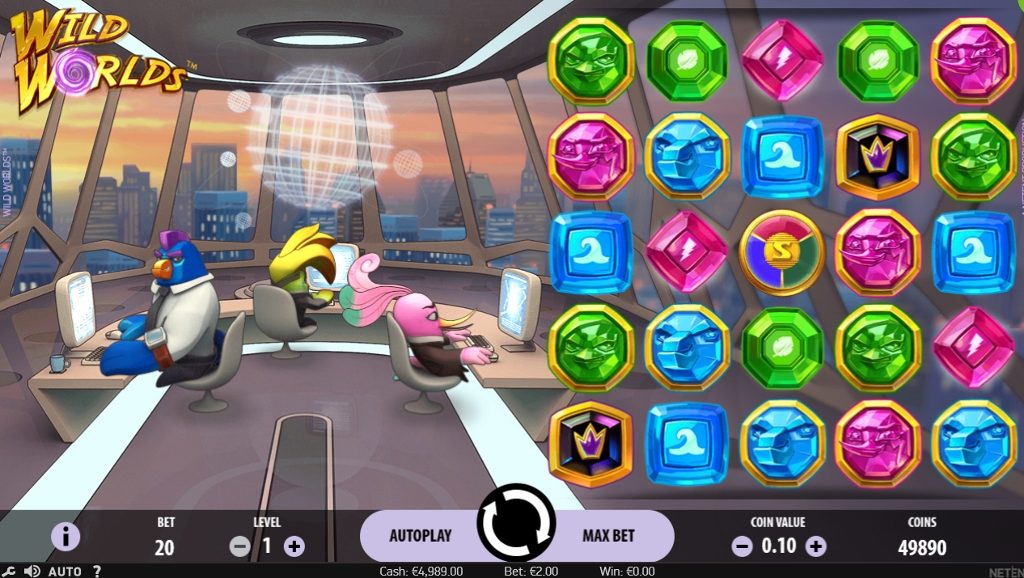 We can't wait to see what kind of features, pay mechanics and graphics the creative team at Netent will implement into the design of the new slot. However, so far, we do not have much information as to which format the new Netent slot will have and what kind of features and gamification it will provide as they keep the details close to their chest until a few weeks before the official release. But knowing the creativeness of their Swedish studio, they will surely take great care again to produce a exciting game, featuring some special pay mechanisms, great design, stunning animations and suspenseful gaming sessions with high win potential.
Comparing it to with other Netent slots, the TRTP should be as usual in the region of 96.00%, featuring a maximum win on a single spin well in excess of 1,000x stake. Bet sizes will probably range from $0.20 – $100 which can be adjusted by a click on the current bet amount from where players are led to a second screen showing the available bet sizes. Auto Play gives players the possibility to set a number of spins to be played with a range of options when the run should stop. The game will surely be in HTML5 format and available for play on desktop, mobile and tablet across all OS platforms.
We are scouring daily the web and question our sources at Netent HQ to find more information on this new video slot. Rest assured, that we will update our post the soon we get to know more details about the new Wild Worlds slot. Check back regularly to read the latest news.
Meanwhile, you can browse through our reviews of all other Netent slots and enjoy them at any of our thoroughly vetted casinos!