Update 8th August 2017: We have meanwhile published our full review of The Legend of Shangri-La™: Cluster Pays, which can be found here.
The latest details on the new Netent Slot!
The last month of Q3/2017 will see the release of The Legend of Shangri-La: Cluster Pays™, a mythical and mysterious addition to the already popular Aloha! Cluster Pays™. Ready for release on 21st September 2017, the slot will remind players of an earthy paradise, bringing them to the ethereal and harmonious world of Shangri-La.
Quote from Wikipedia: "Shangri-La is a fictional place described in the 1933 novel Lost Horizon by British author James Hilton, where he describes Shangri-La as a mystical, harmonious valley, gently guided from a lamasery, enclosed in the western end of the Kunlun Mountains. The name also evokes the imagery of exoticism of the Orient. In the ancient Tibetan scriptures, existence of seven such places is mentioned as Nghe-Beyul Khembalung. Khembalung is one of several beyuls ("hidden lands" similar to Shangri-La) believed to have been created by Padmasambhava in the 9th century as idyllic, sacred places of refuge for Buddhists during times of strife (Reinhard 1978).Some scholars believe that the Shangri-La story owes a literary debt to Shambhala, a mythical kingdom in Tibetan Buddhist tradition, which was sought by Eastern and Western explorers. "
Now that represents a challenge for the design team at Netent. It will be interesting to see what graphics, animations and soundtrack they will come up with to do that justice. Of course, that goes on top of producing a exciting game with thrilling features and big win potential. Anything less than that would be a disappointment.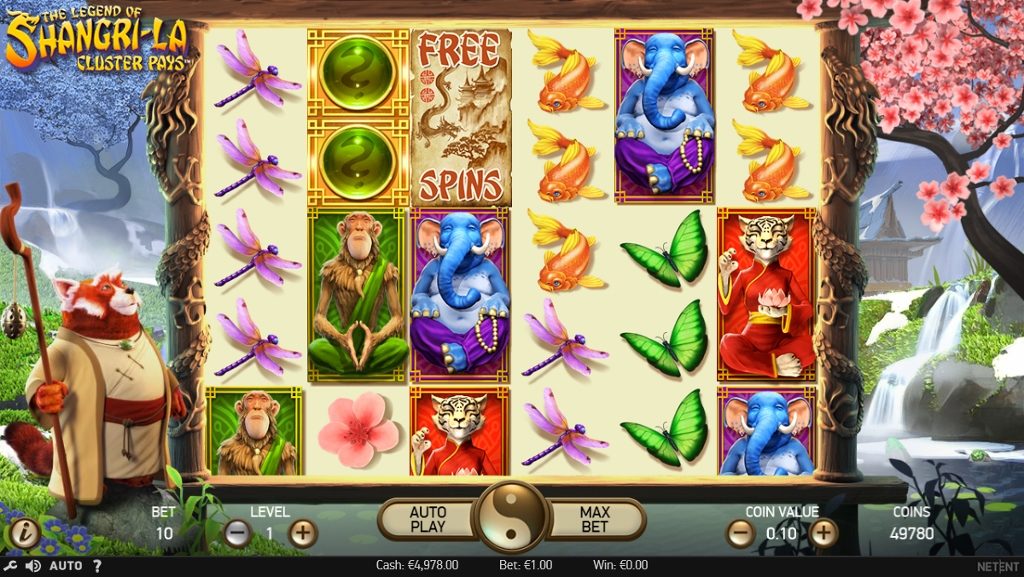 Aloha! Cluster Pays™ was received with some reservations on its release but went on to become a player favorite. Netent got everything right on that slot, new pay mechanisms, a funny surfer Tiki providing extra entertainment and that volcano erupting on big wins represents the icing on the cake. Top that with a 1,000x bet as maximum win on one spin and you have a thrilling game that is worthy to be on anyone's favorite games list.
I am not sure if Netent will include those features on the new slot but the name implies that it will have a similar pay mechanism, maybe with some alterations to add even more excitement to the reels. A Free Spins round and some random feature are to be expected as well to give the slot more choices to produce big and mega wins.
Time will tell, rest assured we will update this page as more details come to light. In the meantime, you can enjoy some other Netent games, make sure to check back here regularly to find the latest information on The Legend of Shangri-La: Cluster Pays