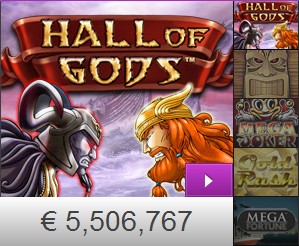 Been a bit quiet around NetEnt jackpot games the last couple of months.
Mega Fortune was first hit in January (€17.8 million) and once again in February (€3.1 million), so it takes some time to build it up again.
It has just exceeded €2 million, which is a lot of money of course. 
But the average jackpot hit on Mega Fortune (last 12 hits) is around €5 million, so maybe not very hot yet. 
The jackpot on Hall of Gods looks better- €5,5 million. It may be worth giving that one a few spins.
(The gameplay in Hall of Gods is a lot better in our opinion as Mega Fortune can be deadly boring)  

You will also find a lot of local jackpot games around in NetEnt casinos.
One example is Super Lucky Frog over at Redbet.
Pretty hot jackpot in our opinion as this often will be hit at around €30-40 000.