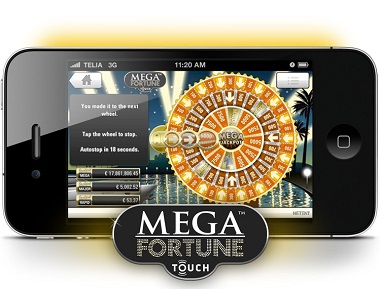 Swedish player
on a 12.50 kr bet
Many of you have probably already noticed that the big Mega Fortune jackpot recently has been hit.
It happened during the weekend and we have now got it confirmed that the lucky player won it over at LeoVegas Casino.
The jackpot (€5.6 mill / 53.6 mill kr) was hit by a Swedish player on a 12,5 kr bet (€1.25) in LeoVegas' mobile casino.
What makes this win extra cool is that the player won the jackpot while playing on his iPad – the same iPad he had won at LeoVegas a couple of years ago!
The Mega jackpot has now been set back to about €500 000, while the local Major jackpot is currently worth about €82.000 at LeoVegas.
It is only about 4 months since another player over at LeoVegas won a €2.5 million Mega Fortune Touch jackpot and now it has happened again yeah.
Congratulations to the lucky player and to LeoVegas Casino.