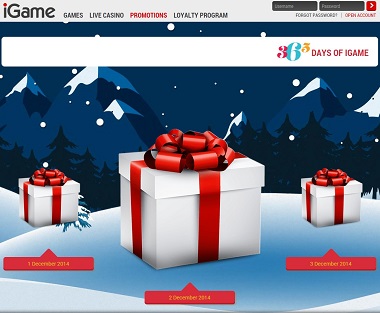 More than just
a Christmas calendar
iGame Casino will on Monday (December 1) start a 365 days long calendar with daily offers for a whole year.
So it will be like a Christmas calendar, but unlike most other calendars – this one will continue to run every day in January, February, March…all the way to December 1 next year (2015).
Interesting concept indeed and we will of course keep you updated once the calendar is live next week. 
Robin Ivarson, iGame's casino manager, comments:
"For Christmas this year we wanted to do something unique and we wanted to do something big. Really big.
That's why we decided to go for a 365 Day Calendar with new offers every day for a whole year.
On Thursday we wrote about iGame Malta's reputable 24hPoker brand that after 13 solid years has been re-branded to 24hBet.
You can read more in this article.
Please note that 24hBet and iGame Casino are two separated brands, so you can play and claim bonuses at both casinos (24hBet also offers Poker and Sports).