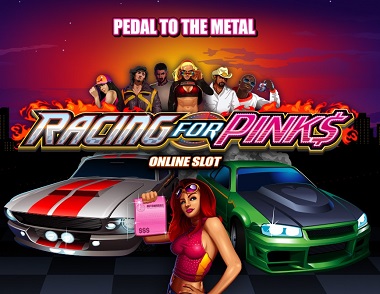 We wrote about Racing For Pinks in this post yesterday.
This is a new game from Microgaming that is expected to be released in November.
A few casinos have uploaded a preview video of the game-play and features, which you can watch below.
Do you have the need for speed?
It's green lights all the way with this fast-paced, pedal-to-the-metal game where you'll lap the competition and win big!
Zoom through a field of features, including two speedy Scatter crowd-pleasers delivering up to 30 nitro-fueled Free Spins at up to 5x the total bet,
 From both Base Game AND Free Spins, screech into a Bonus Race offering the chance at claiming the checkered flag and up to a whopping 175x the total bet.  This Video Slot is fully geared up to get your pulse racing! 
 Go for gold! Claim fame and fortune as you pit speed against muscle on the Bonus Raceway.
.