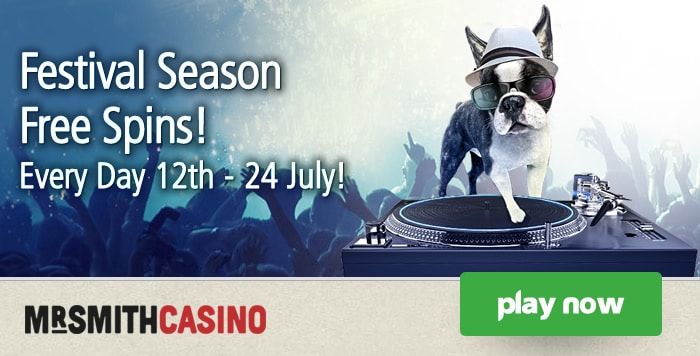 For those of us residing in the Northern Hemisphere we are in the height of the summer season. Summer generally means a number of different things, namely vacations, sunshine and often festivals. All around the world music festivals, art festivals, food festivals and much more are held during the summer months. Not to miss out on the action, a number of online casinos like hosting summer festivals themselves. In May, Mr Green Casino put on a show with the Mr Green Garden Party. Now it's the turn of Mr Smith. All this week, Mr Smith Casino is hosting a free spins festival and trust us, you don't want to miss out.
Mr Smith's Free Spins Festival
To celebrate it being the height of summer, Mr Smith wants you to enjoy free spins on some of their most popular games every day this week. The promotion itself runs until July 24 but is split in two separate periods. The first period is from July 12 – 15. During this period you can enjoy 30 daily free spins on some of NetEnt's greatest ever games. In order to get your ticket for the festival all you have to do is:
After you've opted in and made your deposit 30 free spins will be made available to you on a daily basis until July 15. The games on which you can use your free spins are:
NRVNA: The NXT Xperience
Gonzo's Quest
Flowers
More acts for the festival are set to be released soon and as usual we'll keep you up to date right here at NetEnt Stalker
Mr Smith Casino
Mr Smith Casino has been a player in the marketplace since back in 2011, although it was originally known has Harry Casino. Mr Smith Casino is known for being home to all of the best NetEnt games, while it has also garnered a significant following due to it's consistently good offers.
For more great offers like this follow us on Twitter or Facebook.