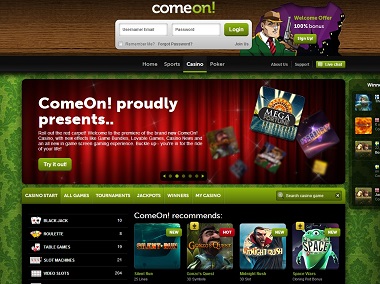 .
We are pleased to see that Comeon Casino has been given a makeover!
You may have noticed that their site was down for maintenance earlier today. 
It was about time to be honest. Their site now looks more modern and is much easier to navigate.
Comeon is offering a huge selection of games and fast payouts, so this new design is more appropriate for this great casino in our opinion.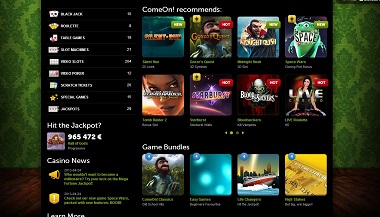 This is how they describe the changes: 
ComeOn! Casino has had a striking facelift and is now more easily navigated, harder, better, faster, stronger and full of jaw-dropping new features! Some of the awesome features include:
Game Bundles: Find similar games more easily. High stakes fan? We have bundled all the best ones together.
Lovable Games: "Love" games and see what others are loving. Ooh-la-la!
Casino News: Keep up to date with the latest news. You snooze, you loose.
My Casino: Your favourite games and game history in one place.
New ComeOn! Shop Features: Whenever you want Free Spins, buy them in the Shop with your Points. Groovy!
New in game screen: Sleekest gaming experience around. Right here at ComeOn!