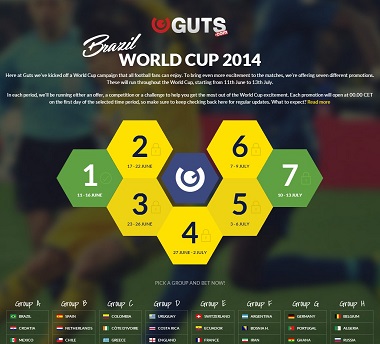 Guts new World Cup campaign is now live and you can check it out by visiting their Sports section and click on Guts World Cup Site.
This campaign starts today and will run until July 13.
During this time, they will run 7 different promotions with for example free bets, deposit bonuses and highest odds competitions. 
Each of the seven promotions represent a different phase of the World Cup and details about each promotion will be posted on their World Cup site.
The first promotion (June 11-16) gives you the chance to claim a €20 free bet. Find more information on their site.
(links in this post will re-direct you to Guts' Sports section for a change).