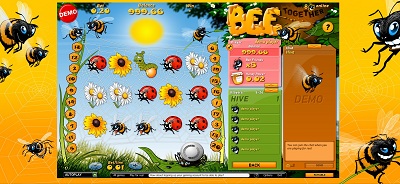 Bee Together is a very exciting and interesting slot as it also comes with certain social features. It is only available at the great Paf Casino.
You can play the game with up to 5 friends or random selected players. Just click on Random and other players will pop up, or enter your friends nickname.
When for example one of you are hitting the Bonus Game, then all players in this group (or Hive as it is all about bees) will get to play the Bonus Game. 
Now Paf has added a new function called Hive Chat where you also can chat with the other players within your hive 🙂
That is pretty cool yes!
You can check out the game fun mode over at Paf without needing to sign up. Definitely worth a try if you have not played it before.
And remember that this game is created for Paf only, so you will not find it in any other casino.
Paf is one of the most reliable casinos online. The company behind was founded it 1966 by charities. They are today operating on the internet, land and sea.