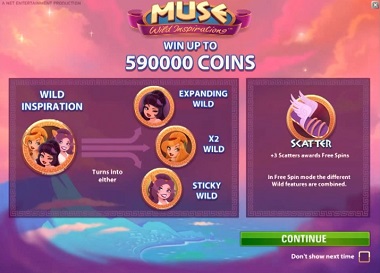 Wild Turkey was released last month by NetEnt. Next slot up from NetEnt is therefor Muse.
Expected release date is March 21.
As you may know by now, most new slots from NetEnt are being released at Betsafe about 1 week before official launch.
This means that Muse MAY be available already next week.
As always, you can expect a lot of free spins from our casinos the day it is launched. We will of course keep you updated yes.
Muse…hmmm. Not so sure about this game based on the preview video. Looks a bit boring, but we like those Expanding Wilds. 
We just published another preview video of Space Wars in another post.
Space Wars is expected to go live in April. 
This one looks much cooler in our opinion. But guess we'll just need to wait and see 🙂
We will let you know as soon as Muse is live.